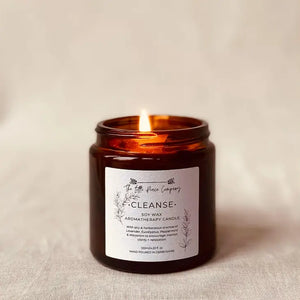 A soy wax aromatherapy candle containing 100% pure, natural, and organic ingredients.
Cleanse is made with a blend of airy, herbaceous and woody aromas of lavender, eucalyptus, peppermint and marjoram essential oils known to aid mental clarity and relaxation.  Finished with a sprinkling of dried mint.
Hand poured in Derbyshire by The Little Peace Company.
Burn Time - 20-25 hours.

Soy Wax is non-toxic, biodegradable, and clean burning.
120ml jar.

Packaging: Amber glass jar with silver aluminium lid.