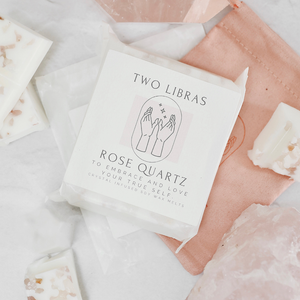 Crystal Infused Wax Melt Bars.
Our rose Quartz Bars have been infused with a classic freshly picked rose scent that evokes summer time romance.
Rose Quartz to embrace and love your true self.  Rose Quartz is like a huge hug, it'll ground you and slow everything down, helping you mellow out and be kind and compassionate to yourself.  This stone helps you stay in the present moment, your worries fading away. 

Hand poured in Oxfordshire
Sprinkled with genuine crystal chips.
6 snap-off cubes made from of highly scented natural wax.
You will find each cube will be fragrant for around 20 hours, filling your home with gorgeous scents and good vibes.