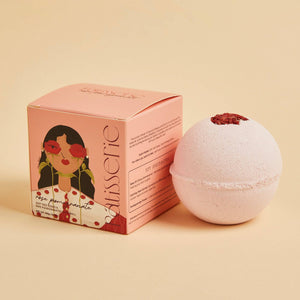 For when you want to feel… self love, confidence and connection.
Scent Notes: Soft pink roses, ripe pomegranate Key Ingredients Rose Oil Comfrey Root Extract Pomegranate Flower The ancient flower of love and beauty, and the fruit to symbolise life make for a divine blend. Breathe in the scent of soft pink rose petals and opulent pomegranate as you bathe in powder-pink waters and connect with your beautiful self. Sink into your well-deserved warm bath, enjoying a moment of mindfulness.
Each of our bath balls are hand-pressed and decorated with expertly selected ingredients to benefit your beautiful outer (and inner) self. Remove all packaging. Drop into a warm running bath, letting the ball completely fizz away before stepping in to relax and enjoy. To really focus on your wellbeing, we recommend practising some simple mindful breathing (deeply inhale through your nose for 3 counts, hold your breath for 2, and exhale through your mouth for 4).