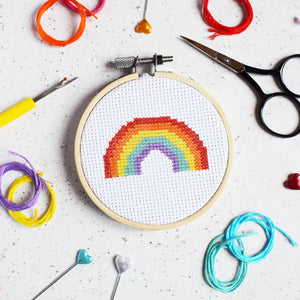 We LOVE a rainbow at The Make Arcade!  Live life colourfully with this easy peasy kit.  Our kits are a perfect chance to learn some simple cross stitching or just get stuck into a great little craft project. This one is ideal to embellish with any extra stitches you may like to add and is one of our simplest kits.
Kit includes: - one 3" mini wooden hoop, aida fabric (that's the holey material you stitch through!), felt to cover the back, DMC threads and cross stitch needle, stitch pattern and 'How to Cross Stitch' instructions The kit is packaged in a neat printed box to store your work in progress, or our kits make perfect gifts.
This project is suitable for beginners but contains small parts so should be used under adult supervision.