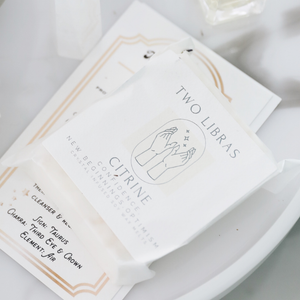 Crystal Infused Wax Melt Bars.
Our Citrine bars have been infused with a refreshing Mandarin and Basil fragrance to invigorate and inspire.
Citrine for confidence, new beginnings, optimism. This sunshine yellow crystal is all about success: Financial, professional or personal.  Much like the sun burning through grey clouds, Citrine burns off negativity.
Hand poured in Oxfordshire
Sprinkled with genuine crystal chips.
6 snap-off cubes made from of highly scented natural wax.
You will find each cube will be fragrant for around 20 hours, filling your home with gorgeous scents and good vibes.