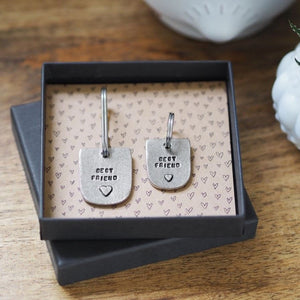 A keychain for you and a collar charm for your four legged best friend!  With matching designs, the keychain and collar charm are both deeply stamped with the words "best friend" and accompanied by a little layered heart motif.  The keychain has a teardrop shaped split ring for attaching to keys whilst the collar charm has a small, round split ring that can be used to attach to a collar fitting.
Solid pewter and stainless steel split ring.

Keychain token measures 2.4 x 2.9cm.
Small collar charm measures 2 x 2.6cm.
Brand: Kutuu.