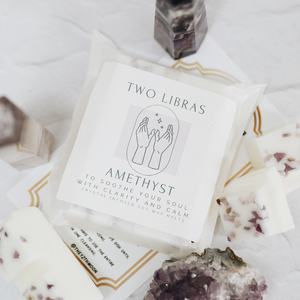 Crystal infused wax melt bars.
Our Amethyst bars have been infused with a soothing Lavender and Chamomile fragrance to help you unwind and relax.  Amethyst to soothe your soul with clarity and calm. This stunning, rich purple crystal enhances control of our emotions, promoting a balanced mind. It reminds us that our sensitivities – when harnessed – can become our greatest allies.
Hand poured in Oxfordshire
Sprinkled with genuine crystal chips.
6 snap-off cubes made from of highly scented natural wax.
You will find each cube will be fragrant for around 20 hours, filling your home with gorgeous scents and good vibes.